May 13th, 2013
There is a notable problem with setting up a website to sell art - in my case, photographs. Visitors. Or rather, the kind of visitors who come to a website. Every week I get several people phoning me as a result of seeing one of my website; they all guarantee to promote me to the top of page one of Google searches for my key words. Trouble is, I have spent months at the top of Google and got many more hits - but fewer calls less business than when I linger around Page 5. It is because the traffic that a number one listing attracts is not the buying public. Not for my wedding photography, not for my portraiture either.

I suspect that it is true for many other people, too: if you are reading this, I bet you are a photographer or other artist rather than an art buyer. That's who searches photography sites. They want to see how you present your works, what your pricing structure is, what their competition is doing on line. The last thing they want to do is buy a piece.

I expect that is why "social marketing" is a growing force. Not necessarily because it attracts shoppers, bus because it reaches a very large audience other than photographers, some of whom are in the market, or can point out what we do to friends who are actually looking for (in my case) a photographer. It also adds to the level of recognition and subsequent trust that people have in a familiar brand.

That means that FAA's system of automatically posting new uploads to Twitter and Facebook is a good thing, right? Maybe...but I posted over 100 pictures in the last week or so, which means my contacts, friends and followers have all been getting eight to ten nearly identical emails telling them I have just added a new piece, and a similar number saying there is a new work for sale on my FAA website. It's not quite spam, but it's not far off, and it isn't going to encourage anyone who wasn't actively looking for a picture to come and look - guess who has come to visit as a result? My fellow photographers, my Assistants and my family...

FAA provides extra back links to my other websites, and that's good if ranking is important; it let's me display existing works which might have sales potential, rather than depending only on new commissions. It costs very little to maintain, so a lack of sales might be disappointing, but not a financial disaster. Yet I see that some sales are made, and I would like to see my name on that list; - not just now and then either: I sell enough so I need the ego massage less than the money!

So, of the 2000+ visitors who have viewed my photos in the last fortnight, how many potential buyers have seen my work? I don't know, but I would think not many, and I wonder, who sees YOUR work on these pages or elsewhere, and how can we harness the potential of this resource? Does anyone have good advice on generating income through art sales on the Internet?

May 5th, 2013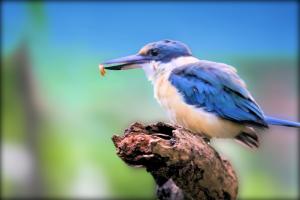 My wife says I talk too much; not all the time - mostly she'd like me to get off the computer and talk more! But out in the bush stalking our photographic prey, she thinks I am too noisy. My attitude is that most of the wildlife we are interested in is too disdainful of our hunting abilities to care if we are there or not. In fact, i think that many birds and animals become shyer if we appear to be trying to sneak up on them. On the other hand, make a bit of noise, carry on your conversation in a natural way and they will go on about their normal lives.

Sure, there are exceptions, but as you will see from the photos in my galleries, this approach seems to bear fruit for me, and I suspect for other photographers, too. If you are one, let me know; I don't plan to get a lot quieter, but maybe you will help me encourage my wife to shoosh up!